Meet The Off Leash K9 Team
Off Leash K9 Training of Kansas City, Missouri is proud to have professional dog trainer Jason Dunn.
Jason grew up in the small town of Miamisburg, Ohio. As a child Jason had a fascination with animals, how they behaved, and how they were trained. That fascination evolved as he got older into a natural behavior that has led to many dog owners saying "Wow! They don't usually like men" or "He/She doesn't usually come to strangers that quickly."
One of Jason's other fascinations as a child was the Military. Having come from a long line of military service, it was obvious that he was going to follow that family tradition. 2 days after graduating high school he joined the Marine Corps and shortly after the war on terror began. Now retired after multiple deployments he's enjoying the time with his family.
Over the years seeing the Military Working Dogs with their high level of obedience and all of the amazing skills they are trained for created a desire to have that same type of discipline and obedience in his own K9 companion.
He adopted a 6 year old German Shepherd, Gunner, that the owners had obedience problems with (He would run off for a day "adventure" and come home for dinner). After adopting Gunner he sought out training with Off Leash K9 Training with their Military and Law Enforcement background it was the perfect fit. Gunner had 27 commands and was amazing people with his off leash obedience.
Now with all the experience of working alongside the Military Working Dogs, Jason would like to bring that bond and joyful experience, for both the dogs and owners, of having an off leash life to as many homes as possible.
do you have questions for us?
Or Call us for a free consultation today!
About Off Leash K9 Training
Dog Trainers Who Are Recognized Around The World!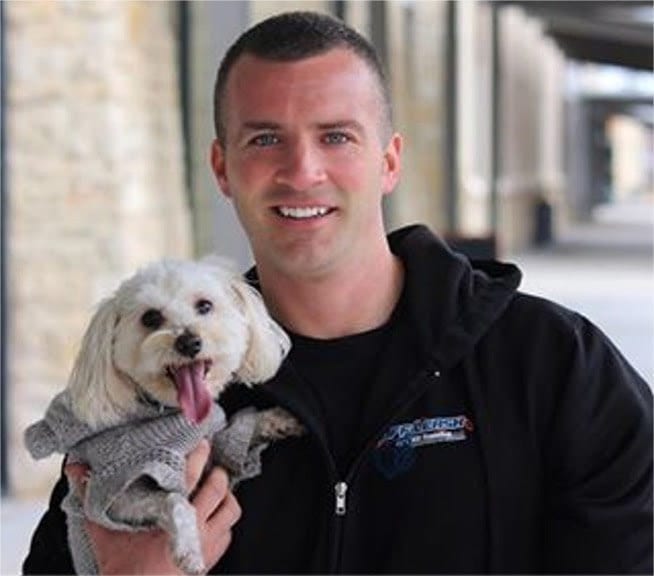 Nick White is the Owner and Founder of Off Leash K9 Training.  Nick is a former US Marine and former US Secret Service. He currently has over 130+ dog training locations throughout the United States. 
Nick is globally recognized as being one of the top dog trainers in the world.  He has 2 official world records in off leash obedience, named on Wikipedia as one of the top 20 dog trainers in the world, recently named top 10 trainer in the world by bestdogtrainers.org, has been featured in many magazines and shows, and he is regularly requested by the top celebrities and athletes! He has been called upon by people such as actor Ryan Reynolds, WWE's John Cena, MLB All Star Max Scherzer, UFC World Champion Jon "Bones" Jones, and many more!
You can visit our YouTube Channel and watch over 1500+ before/after videos of Nick and his team's work!  Off Leash K9 Training has more documented videos than any dog training business in the entire world!